The ability to stagger projects for maximum throughput and productivity is one of the most important benefits of using BeingManagement.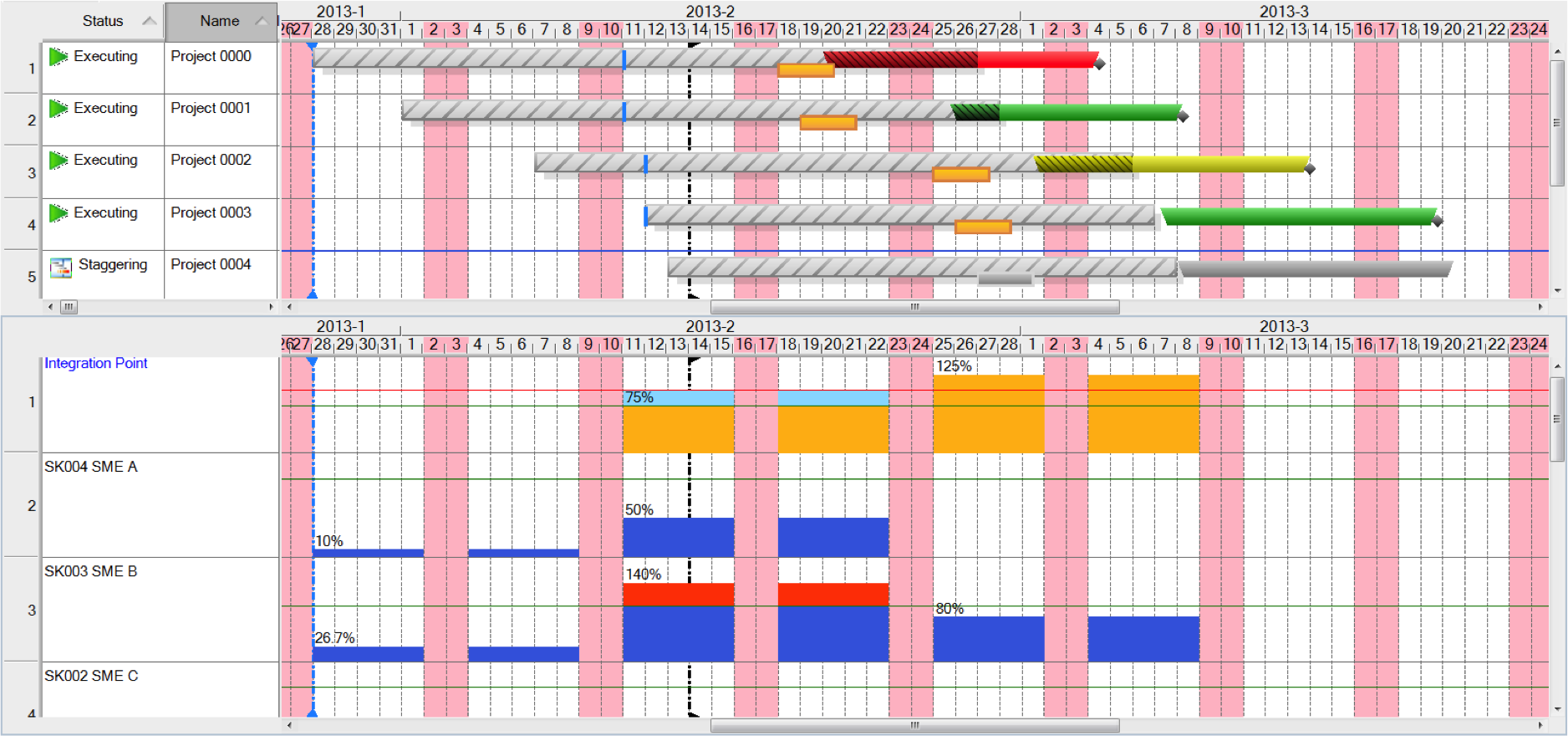 Organizations that work on multiple projects simultaneously while continuing to operate with a single-project management technology are rarely able to synchronize their portfolios. It is true that projects may be individually optimized, delivering high performance and on-time completion, but frequently at the expense of the other active projects. This frequently causes an ongoing tug-of-war between business leaders, which quickly sub-optimizes enterprise performance.
BeingManagement is able to evaluate resource loading and use the information to synchronize project flow, providing both the transparency and clarity for leaders to make decisions. By prioritizing projects with simple drag and drop adjustments, BeingManagement performs the scheduling required to create flow and minimize schedule risk in the portfolio. In this way, executives can be certain that the portfolio is optimizing the schedule and related task assignments with the enterprise's best interests in mind.
Allowing the system to calculate an earliest promise date gives the sales organization supreme confidence that customers will get projects on time.
Most businesses operate with only 20-30% of projects being delivered to customers on time. The studies that have documented this statistic leave a stark impression of project management capabilities for the vast majority of businesses. However, for entrepreneurs and business leaders, this is a clue about a giant opportunity to capture market share and delight customers. BeingManagement enables a business to deliver projects much more reliably, so when the sales organization makes a promise, they can be confident that their reputation is safe. Studies show that on-time completions exceed 90% when the techniques that are built into BeingManagement are applied.
Once the resource model and project networks are set up in the portfolio, the system is capable of performing a calculation of the earliest promise date for any new project. Perhaps even more importantly, BeingManagement provides a what-if analysis tool inside the FlowPlanner module. This allows planners to look at multiple scenarios and investigate how they will impact the portfolio's performance. These scenarios can conveniently be saved for future analysis or implemented to the portfolio as the new master schedule.
Focusing is power! Achieve incredible speed and management insight.
Interested in taking BeingManagement software for a test drive?